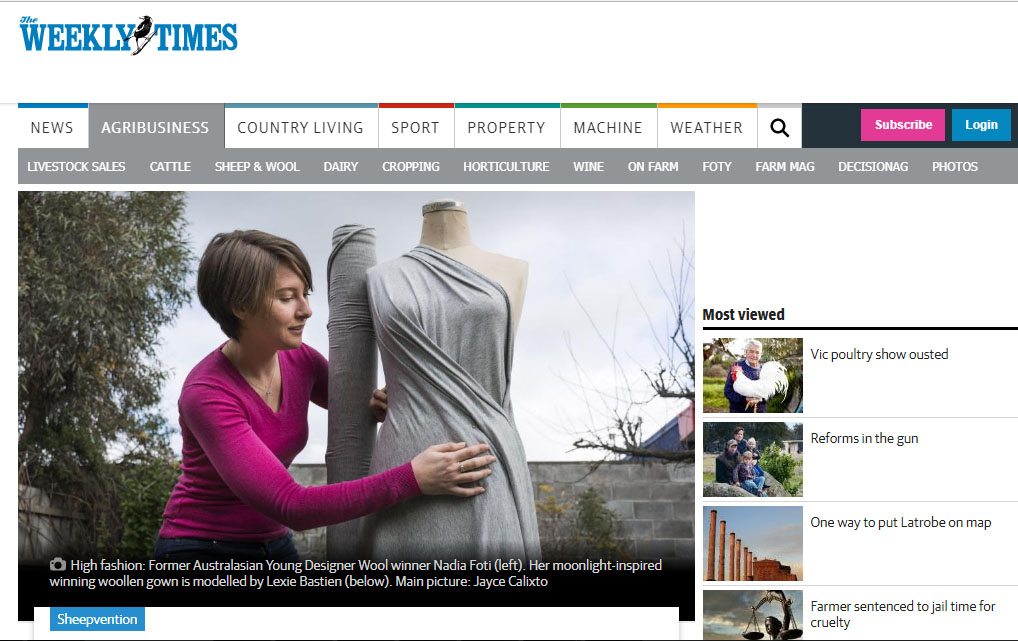 Sheepvention 2017: Judge draws on European days
LYNDAL READING, The Weekly Times
July 21, 2017
WINNING the Australasian Young Designer Wool award in 2008 changed the direction of Nadia Foti's career and catapulted her into the world of high fashion in Europe.
Nadia will return to where it all began and judge the award at Sheepvention this year, just a month after launching her first collection.
To read more go to:
http://www.weeklytimesnow.com.au/agribusiness/sheep/sheepvention/sheepvention-2017-judge-draws-on-european-days/news-story/3674066dda27ff1ffbdc78fcddcc547
Darwin designer Nadia Foti making name for herself in fashion circles
Georgina Murphy, NT News
June 18, 2017
IT'S a long way from the Territory's Top End to fashion's holy land of Milan, but Darwin talent Nadia Foti, who has relocated to Melbourne, has taken her award-winning skills around the globe and now launched her own label.
To read more go to:
http://www.ntnews.com.au/lifestyle/darwin-designer-nadia-foti-making-name-for-herself-in-fashion-circles/news-story/15d7c8ba6b4331628220f8a9f87499b3
Melbourne Cup 2014: Fashions convert goes from kaftan to structured couture
Deborah Gough, The Sydney Morning Herald
NOVEMBER 4. 2014
It took a rip in a Camilla kaftan to bring out the winning entry in the Myer Fashions on the Field competition.
Winner Christine Spielmann, 28, said she was given her blue-green kaftan (a David Jones held label) as a 26th birthday present. She "wore it all the time" until she reached for something and it tore at the seams.
Ms Spielmann gave the fabric to designer Nadia Foti Bespoke, who turned the free-flowing garment into a structured design with layered tulle and a lime pencil skirt.
To read more go to:
http://www.smh.com.au/lifestyle/fashion/fashions-on-the-field/melbourne-cup-2014-fashions-convert-goes-from-kaftan-to-structured-couture-20141104-11grqv.html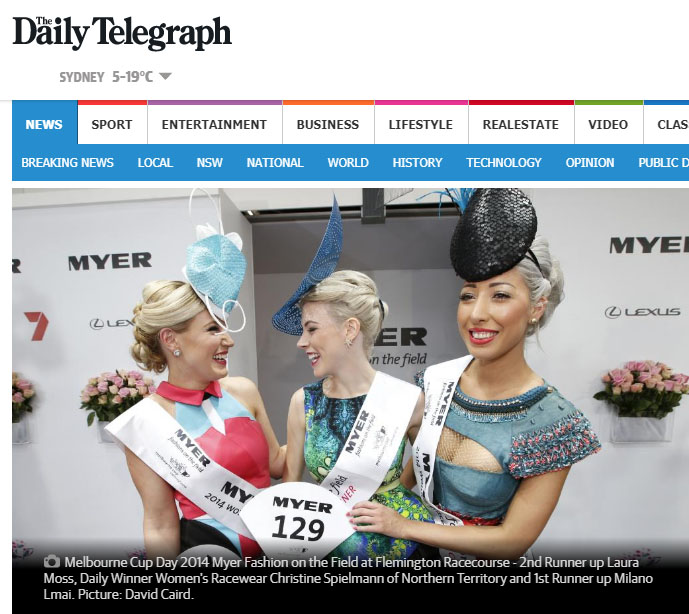 'Team Darwin' takes out top fashion honours at the Melbourne Cup
JILL POULSEN, NT News
November 4, 2014
TERRITORY woman Christine Spielmann has taken out the 2014 Melbourne Cup Fashions on the Field, making it the second consecutive year a Top Ender has won the accolade.
The 28-year-old admin assistant from Darwin was the runner-up in last year's event and said she absolutely chuffed to win this year.
"You always think your outfit is lovely but as soon as you get on the stage with people whose outfits are just as specular you think I've got no hope in hell," she told the NT News from Flemington.
"It's just amazing."
The vibrant, asymmetrical design was crafted by born and bred Darwin designer Nadia Foti and was made from the material of a kaftan Christine was given for her birthday.
To read more go to:
http://www.dailytelegraph.com.au/news/team-darwin-takes-out-top-fashion-honours-at-the-melbourne-cup/news-story/4e6149f001f307a4945f49793caa71d0